Thailand
Closing of PHJ-Thai projects and PHJ-Thailand Office
PHJ has implemented medical and health support projects in Thailand since 1998. Having accomplished its initial target of providing medical and health support until the local organizations can take over the projects, PHJ transferred them to local organizations and PHJ-Thailand Office was closed on Octorber 31, 2016. We appreciate your warm support and cooperation up to now.
PHJ was engaged in HIV/AIDS prevention education, pediatric cardiovascular surgery, etc. in cooperation with local universities and organizations. PHJ-Thailand was located in Chiang Mai Province in northern Thailand and its operations were conducted by the Thai director and staff members. Major projects included : the HIV/AIDS Prevention Education Project directed to university and technical school students and the pediatric cardiovascular surgery support project. Some of the projects utilize grant assistance from the Ministry of Foreign Affairs of Japan. PHJ Thailand promoted and conducts these projects in close cooperation with local universities, technical schools, and medical organizations.
About Thailand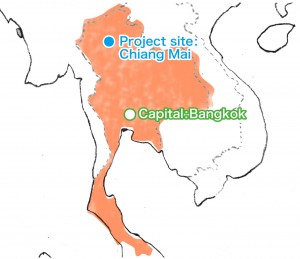 Thailand is very active in economic activities and tourism. However, with regard to its health and medical environment, the disparities between cities and villages remain very large. For example: Thailand possesses one seventh of the health and medical human resources available in Japan. In contrast to these statistics, 800,000 village health volunteers (VHV's) actively function as supporting health staff members. The VHV's are engaged in improving village health standards and promoting the prevention of infectious diseases. The Thailand's VHV's are regarded as a model health resource by neighboring countries.
Introduction of projects
Pediatric Cardiovascular Surgery(1998~2016) more
HIV/AIDS Prevention Education(2000~2016) more
Support of Physically-challenged Children(1998~2016) more
Past Projects more
Country information
| | Thailand | Japan |
| --- | --- | --- |
| Area | 514,000 sq. km (1.4 times of Japan) | 378,000 sq. km |
| Population | 67.96 million | 127 million |
| Gross national income per capita | US$5,780 | US$42,000 |
| Ethnic groups | Thai 75%、Chinese 14% Malay, Indian, Vietnamese 11% | Japanese 98.5% Ainu, Korean, Chinese |
| Language | Thai, English, ethnic and regional dialects | Japanese |
| Religion | Buddhist 94%, Muslim 5% | Shinto + Buddhist 84%, Christian 2%, Others 7.8% |
| Life expectancy | 75 years | 84 years |
| Fertility rate | 1.5 children born/woman | 1.4 children born/woman |
| Literacy | 96% | 99% |
| Infant mortality rate | 11 / 1000 live births | 2 / 1000 live births |
| Under 5 mortality rate | 13 / 1000 | 3 / 1000 |
| Percentage of 1 year olds fully immunized against measels | 99% | 98% |
| Maternal mortality rate | 20 / 100,000 | 5 / 100,000 |
| Skilled attendant at delivery | 100% | 100% |
| HIV/AIDS prevalence rate (15-49 years) | 1.1% | Not available |
Source:UNICEF 2016, MOFA Japan 2016