Myanmar
PHJ is implementing maternal and child health care service in rural areas.
PHJ established its Myanmar Office in Nay Pyi Taw to improve medical and health care services of village clinics and health centers as well as to extend educational support to raise health awareness of the villagers.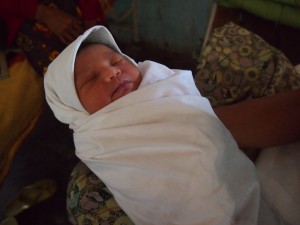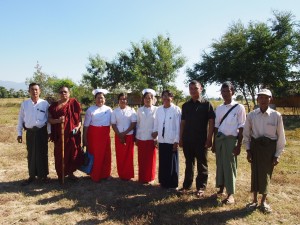 About Myanmar
The Republic of the Union of Myanmar, once called Burma, is located on the west of the Indochina Peninsula. Its economy had been stagnant for a long time due to the state isolationist policy. Since 2011, the country has been drastically changing its course to democratic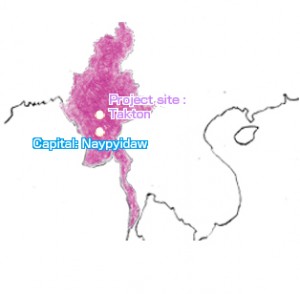 and economic reforms. Its capital used to be Yangon but in 2006 was moved to Nay Pyi Taw, 320 kilometers inland from Yangon.
Maternal and child health condition is critical in Myanmar. The maternal mortality ratio is rather high among the Southeast Asian countries. The maternal mortality ratio is high among the South East Asian countries. Also the infant mortality rate (the number of infants die before reaching 1 year old) is 40 per 1,000 live births, which means that the medical service level is similar to Cambodia. The infection of malaria and HIV is also high.
Introduction of Projects
Maternal and Child Health Care Improvement For details
Country Information
Myanmar
Japan
Area
680,000 sq.km
378,000 sq.km
Population
52.8 million
128 million
Gross national income
US$1,307
US$42,000
Ethnic groups
Burmese 70%, Many
other minority ethnic groups
Japanese 98.5%, Ainu,
Korean, Chinese
Language
Burmese
Japanese
Religion
Buddhist 90%, Christian,
Moslim
Shinto + Buddhist 84%,
Christian 2%,Others 7.8%
Life expectancy
67 years
84 years
Fertility rate
2.2 children born/woman
1.5 children born/woman
Literacy rate
76%
100%
Infant mortality rate
40/ 1000 live births
2 / 1000 live births
Under 5 mortality rate
51 / 1000
3 / 1000
Percentage of 1 year olds
fully immunized against measles
91%
96%
Maternal mortality
rate
178 / 100,000 persons
5/ 100,000 persons
Skilled attendant
at birth
60%
100%
HIV/AIDS prevalence rate
(15-49 years)
0.7%
less than 0.1%
Source:UNICEF 2017, MOFA Japan 2018, CIA 2017