Japan Disaster Relief and Reconstruction Support
PHJ has been carrying out the East Japan Disaster relief and reconstruction program since March 2011.
The emergency support and reconstruction of hospitals suffering from the disaster in Kesen-numa,
Ishinomaki, and Tagajo in Miyagi Prefecture ended in 2018. (Please refer to the Past Project)
Support to launch Psychosomatic Counselling Room at Minami Soma, Fukushima (2019-2021)
Support to Minami Soma: Suffering from both East Japan Earthquake/Tsunami disaster and Fukushima Nuclear Power Plant Accident, the reconstruction in Fukushima Prefecture is not proceeding as planned. The disaster related death rate of Fukushima announced by the Reconstruction Agency is the highest among the three disaster affected prefectures.
Within Fukushima, the death rate of Minami Soma is the worst. PHJ recognized this grave situation and decided to extend support to mental health care of the people of the Minami Soma, by launching a psychosomatic counselling room, in cooperation with Dr. Arinobu Hori, Director of Hori Mental Clinic.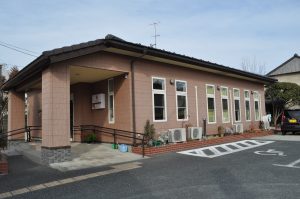 Hori Mental Clinic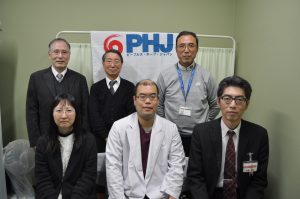 First raw from left: Ms. Yonekura, Clinical Psychologist,
Dr. Hori, Mr. Kato GM of Clinic Administration
Second raw: PHJ staff members
PHJ and Medical Incorporated Musubino-kai concluded a Memorandum of Understanding to launch a counseling room where a clinical psychologist extends counselling service in January 2019.
*Psychosomatic Counselling: a clinical psychologist extends 50 minutes of listening, understanding, accepting, and sympathizing service to reduce a patient's mental and psychological stress. The psychologist further helps the patient to find a solution by understanding what he/she wishes to do and how to achieve it.
Clinical psychologist is a private qualification. In 2018 Certified Psychologist System started as a national qualification.
FY2020 East Japan Disaster Support (Yen)
Balance at
FY start
Income
Expenditure
Balance at
FY end
Support
4,254,771
4,507,366
6,128,084
2,634,053
Goods in kind
3,824,950
3,824,950