Indonesia Past Projects
Maternal and child health improvement
(Project period: 2003~2016 Project site: Serang, Banten provinces)
Aiming at maternal and child health improvement, PHJ implemented the project in two autonomous districts in Serang, Banten provinces. In Tirtayasa district, most of births had been assisted by traditional birth attendants. Then we started to educate and give them medical implements and encouraged cooperation with midwives. These midwives started maternal and child health education in each village and strengthened local health networks involving health volunteers and administration. At the same time, we built and equipped local health centers. As a result, PHJ succeeded in uplifting consciousness of safe births among local residents and 97.5% of pregnant women came to give birth assisted by midwives in a local health center in Tirtayasa.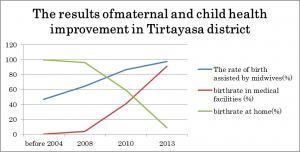 Nutrition improvement education
(Project period: 2004~2016 Project site: Banten provinces)
According to the survey before launching the project, undernourished child rate reached 6.3% and mothers had little basic knowledge about nutrients. In order to improve this situation, PHJ created economical and nutritious menus and held nutritious cooking contests. From 2010, we started to educate mothers about nutrition and established a nutrition education center. Moreover, we made vegetable gardens in villages and let local residents grow vegetables there and eat by themselves. As a result, undernourished child rate decreased to 0.1% and more children got healthy.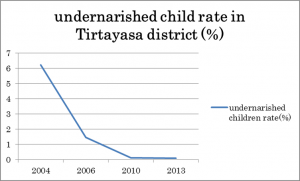 Indonesia Rabies Infection Prevention
(Project period:2010~2014 Project site:Gianyar District, Bali Province)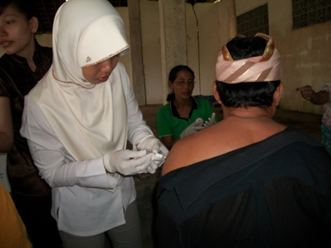 Since 2009 rabies is spreading widely due to the lack of vaccine injection to dogs and the lack of Indonesia made vaccine. Considering the sucessful achievements of PHJ's avian flu prevention education from 2007, the provincial health department requested PHJ to develop an anti-rabies project. PHJ is introducing an effective prevention education method, human resources, and organization and supports injection of vaccines.
Activities
Strengthening Health Care System
Providing education to medical staffs of clinics and referral hospitals, establishing emergency treatment, triage, and other systems, and building medical equipment and supplies for infection prevention
Infection Prevention Education
Basic education on avian flu to elementary school children and villagers
Supplying Rabies Vaccine
To cope with the lack of vaccine, PHJ supplied the vaccine.
Indonesia Medical Follow-up
(Project period:1997~2014 Project site:Bali Province)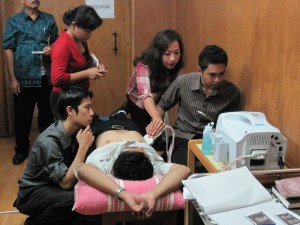 PHJ has donated medical equipment required at the project site and extended repairing service and training for the medical equipment left unmaintained. Further more, PHJ has extended technical training to medical doctors and technical staffs to enhance their knowledge and skills.
Since 1997, PHJ has been providing technical training of medical equipment at a public hospital in East Bali. This project aims at enhancement of image diagnosis technology using the image diagnosis equipment. For this purpose, PHJ has been dispatching an expert from Japan annually.
The Health Department and Gianyar Hospital of the Gianyar District of Bali Province promote improvement of medical and health services in the district and intend to make the Gianyar Hospital a core hospital in the district to start breast cancer diagnosis and other new services.
Activities
The first medical follow-up program PHJ implemented in Indonesia was the technical training of medical equipment at Sangra Emergency Hospital, in Denpasaar, that was constructed by the grant assistance from the Japanese Government. Due to the lack of fund and repairing knowhow, a half of the medical equipment was left unmaintained. The hospital could not provide appropriate diagnosis and treatment of patients. Having consulted with the Ministry of Health of Indonesia, Health Department of Bali Province, PHJ offered the investigation of the status of defective medical equipment, supplied necessary repair parts, and extended technical training of medical and repairing staffs. Thanks to these support, more than 90% of the medical equipment at Sangra Hospital and other three public hospitals were repaired for practical use. In the oncology and gynecology field, PHJ provided an image diagnosis equipment and dispatched several Japanese experts to give training on image diagnosis to the Indonesian medical staffs.
In 2002, in order to empower the image diagnosis technology in the Gianyar DIstrict where PHJ is implementing an oral hygiene education, PHJ invited a medical doctor of the public hospital to a medical university in Japan.
In 2005, to support the Gianyar Hospital's plan to become a core hospital in the province, PHJ donated an X-ray computer tomography (CT) and invited three Indonesian medical doctors to Japan to master the operation and image diagnosis technology of the CT. Following the training and installation of the equipment, PHJ dispatches a technical expert of the Japanese university hospital every year to give training on image diagnosis technology (covering ultrasound image diagnosis equipment also) to the Indonesian medical doctors and technical staffs.

Indonesia Oral Hygiene Education Phase II
(Project period:2004~2010 Project site:Gianyar District, Bali Province)
In the Phase I project from 1998 to 2003, PHJ focused on strengthening dental care services of a clinic in terms of technology and equipment and oral hygiene education directed to elementary school and kindergarten children. In the latter program, school health care staff trained junior dentists who acted as peer educators to teach younger children.
Having learned of many abnormal tooth growth among the children in the Phase I project, PHJ decided to focus on the empowerment of pediatric dental technology in the Phase II project. Accordingly, PHJ organizes a week-long technical seminar every year to provide a brush-up training to health staffs and dental staffs. Lecturers are from universities in Japan or Indonesia.
Oral Hygiene Education Phase I
(Project period:1998~2003 Project sites: Gianyar, Bangli, and Klunkung Districts, Bali Province)
In 1998 PHJ made a dental service survey in East Bali and found the situation was quite poor. Many clinics had no dentist nor dental health staff and lacked appropriate dental equipment. The district's budget for dental care was very small and clinics could not provide dental checks and oral hygiene education. Many children did not have tooth brush due to poverty and parents did not know the importance of dental health. Since the oral health of children in growing period is important for health including speech impediment, malnutrition, heart diseases, etc. , PHJ decided to work with Bali Branch of Indonesia Dental Association to strengthen dental care services od clinics and oral hygiene education directed to elementary school and kindergarten children.  A dentist and dental health staff participated in the project as PHJ's staff members.
The oral hygiene education project Phase I consisted of the general oral hygiene education, prevention of tooth decay, improving skills and knowledge of dentists. The project was implemented for five years with the grant assistance from the Japanese Government.
Achivements of five years (1998-2003)
About 13,000 school and kindargarten children and about 3,000 parents received the oral hygiene education. Twenty four (24) sets of dental equipment were installed at clinics. A new dental clinic for children (with 2 sets of dental chair) was constrcuted in the district. A dental panorama X-ray equipment and other dental equipment were installed at Gianyar Hospital. Furthermore, technical training for dental staffs were provided four times. As an original education method, PHJ introduced peer education in which older children were trained as junior dentists to teach younger children. Before the project, the dental treatment rate of the school children was 0% but at the end of the project, the rate exceeded 50%.
Off Sumatra Coast Earthquake and Tsunami
On December 26, 2004, the earthqauke and tsunami hit Sumatra island and other parts of Asia causing extraordinary damages and casualities. More than 220,000 people died or are missing and 2,000,000 people were affected. PHJ extended relief support in Ache, Indonesia and emergency and relief support in southern Thailand.
The administrative system of the Ache Province was complicated and requests for support were not properly transmitted. Many NGOs and relief goods from all over the world arrived Ache but because of the damage of infrastructure such as road, many areas did not receive any support.
As soon as the air transportation resumed, the PHJ Indonesia Representative visited Ache together with the Ministry of Health officers to find what support PHJ could offer. With the approval of the Ministry, PHJ proposed the reconstruction of a delivery clinic washed away by the tsunami, which matched PHJ's mission. After search of an appropriate location, an earthquake resistant building with sanitary equipment delivery clinic was constructed and transferred to the local authority in December 2005.
For the Thai disaster, the government published the list of required items three days after the tsunami. PHJ in cooperation with the Project HOPE, US NGO, provided medical supplies for the bodies and a ultrasound image diagnosis equipment to a clinic.
PHJ extended the above-mentioned disaster relief with the 7 million yen donation consisting of the Sumatra Disaster donation worth 5.96 million yen and the year end donation.