Cambodia Maternal and Child Health Improvement
(Project period:2014~ Project site:Kampong Cham Province)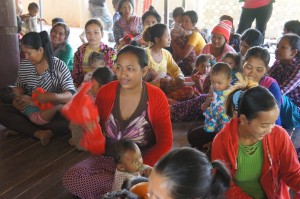 PHJ's present project site, Kampong Cham Province, is the most populated province in Cambodia with the largest number of health centers 142 also. However, there is no registered midwife in 22 centers where assistant midwife receiving only one year training after graduating from a high school are serving. The province has the problem of lack of human resources with adequate knowledge and practical medical services who can be leaders on the practical level.
PHJ is extending maternal and child health improvement at the Steung Trang Health District. According to the statistics of the district health center, the number of health checks of a pregnant woman, child birth and postpartum checks at the health center is decreasing. The issue of the district is the lack of adequate health care services such as periodical checks of pregnant women, delivery, postpartum checks, family health care.
Since the Steung Trang Health District is a new administrative district and the supervisory system from the health district to the lower level is not firmly established. In order to enhance the maternal and child health improvement in such district, administrative and supervisory functions enhancement is urgently required.
To extend the continued health care to mothers and children, PHJ will proceed with building the system where the health center midwives would extend services under the trust from the villagers.
This project is put into practice by the support from the Ministry of Foreign Affairs Japan NGO cooperation grant aid, Narita Cosmopolitan Rotary Club, Yagami Co. LTD., and other supporter companies, groups, and individuals.