Introducing Our Staff
Meet the staff members of PH-Japan.
PHJ Tokyo Staff Members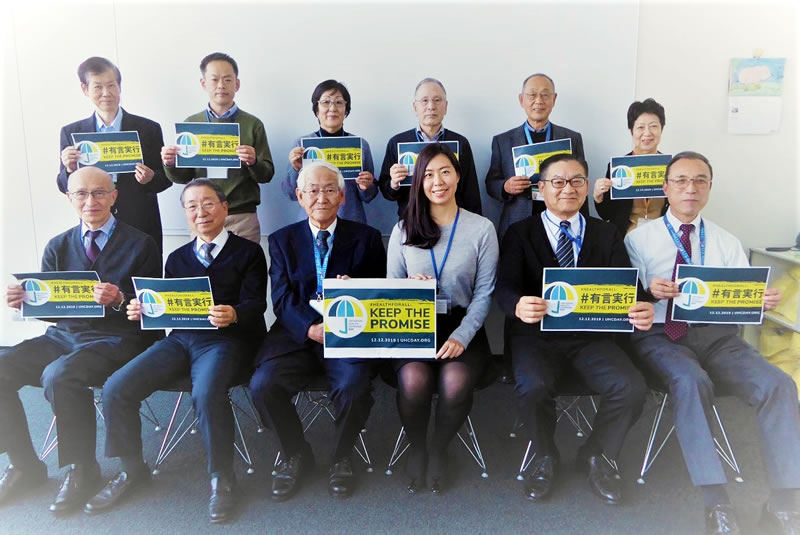 At the Tokyo Office, a total of 15 members (as of December 2019) are handling fundraising, project support, communications and administration.
PHJ Cambodia Staff Members
PHJ Cambodia Acting Country Director
& Project Manager (as of May 1, 2020)

Kanako Ishiyama

I started my duty as a project manager of PHJ Cambodia Office in April, 2019. I found working for the field of child and maternal health is a very rewarding experience. I believe that protecting and assisting in improving their health can contribute to developing the country itself. I really enjoy working with our local staff. (Master of Arts in Political Science, PHD Candidate)
Administrative Officer

Chhun Sopec

I started working in December, 2019. I used to work for another foreign NGO as an administrator. I really enjoy my work because the PHJ office has a warm and
comfortable environment. I am really grateful for this opportunity to work for PHJ. I wish to make the best use of my professional experiences and knowledge to contribute towards improving the health of mothers and children, by supporting activities as an admin assistant

Project Officer

Chum Sinol

I graduated from University in 2012.I started to work with PHJ from October 2014. It is a
great pleasure for me to work with PHJ including the Country Director and other staff in the new project. I want to contribute for the development of Cambodia in many fields.

Project Officer

Oun Sreyleang

I graduated as a secondary midwife in 2015 and have a bachelor of English degree. After I joined PHJ, I found it important to improve health education at the rural area. I really love the way of working and environment of PHJ and to continue working until the end of the Project.
(Secondary Midwife)

Project Assistant

Ry Sreynat

I joined PHJ in Dec.2019. I got to know about PHJ when I was working at another NGO in Kampong Thom. I had keen interest in PHJ since then. I always dreamed of working for an NPO/NGO, contributing to the development of communities, and working with/for children. I am glad that I can fulfill my responsibility, as a Cambodian, to help my people, especially those in the rural areas through a Japanese NGO.

Project Assistant

Doeurk Sophorn

I am very happy to work in PHJ because I can help my people, especially mothers and children in Cambodia, to live healthy life. I wish to contribute to creating society where women and children live happily. Maternal and child health is a new field to me, but I am willing to make my utmost effort to undertake my duties by making use of my prior professional experience.

Driver

Vorn Phorn

I started to work for PHJ in April 2019. I support the PHJ activities by taking the staff safely to the field work. It gives me a sense of great satisfaction to work for the better future of children in Cambodia. I would like to make my utmost effort to contribute towards the success of the PHJ project.
PHJ Myanmar Staff Members
PHJ Myanmar Country Director

Yoriko Hasui

I joined PHJ Myanmar office in March, 2020. Although Myanmar's economic development has been accelerated recent years, social inequality is seen across the country. I'm proud to be a part of this team to serve the communities and people in need. I'm excited to work closely with local government and people in the communities and hoping our project can make a great support for health and well-being of mother and child.
(MA in Development)

Program Manager

Risa Kume

I joined the PHJ Myanmar Office as the Program Manager. I am proud to join an excellent team that continuously works towards improving maternal and child health. I will do my best and contribute to the people of Myanmar.(RN,PHN)

Program Officer

Phyo Zaw Aung

I'm trying the best to assist Country Director in order to achieve our project goal and PHJ mission.
I'm really happy working as the first local staff. I love walking, listening and watching adventure and animation movies.
Thank you, PHJ supporters for your kindness to our needy communities in Myanmar.

Project Officer

Phyo Min Thu

I graduated from the University of Community Health and started to work at PHJ from December 2016. My hobbies are reading and learning new things. I believe that public health is really important. I enjoy doing this great job and trying the best for all.

Field Officer

Aung Thu Myint

I graduated from University of Community Health and started to work at PHJ in October, 2018. I am interested in public health as I believe it is really important for community. I am glad to work in the PHJ Myanmar Office to apply my public health knowledge in the project sites. I will try my best.

Field Officer

Myo Min Kyaw

I have assumed this position since August 1, 2019. Before I joined PHJ, I had worked in MCH Project for 4.5 years. I am delighted working with PHJ to improve the health status of the mother and children living in the rural remote area. I will contribute to the best of my knowledge. Our great endeavor will surely have a positive impact on the local community. My deepest gratitude goes to all PHJ staff, Ministry of Foreign Affairs (Japan) and donor companies for having me this opportunity and for what PHJ has done and will be done to the people of my country.

Accountant

Than Than Sint

I joined PHJ in May, 2018. I like helping people and enjoy working at PHJ. Our project is supporting to build the health facilities, donate medical equipment and conduct a health education for MCH. I believe this project will help to improve health status of mother and child in rural area. I am trying the best for our project.